Is Your Organization Striving for Operational Excellence?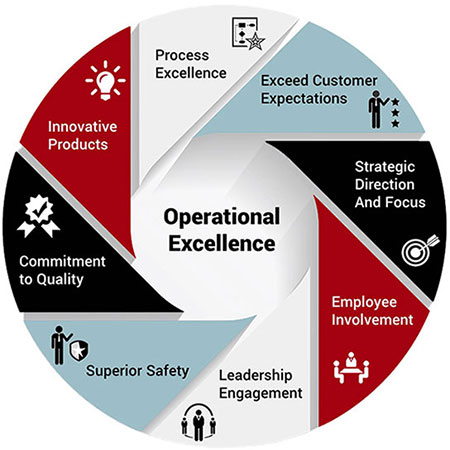 Companies that nurture Lean for the long-term are far more likely to survive and prosper in the future.
Why Lean?
Lean is the only known methodology that simultaneously improves cost, quality and throughput.
Improvements gained through Lean Production techniques can have a dramatic effect on the financial condition of a company.
The most dramatic effect of Lean Production is on the ability to compete.
Lean Production changes the very nature of a company from one that reacts to a competitive market to one that determines the rules of competition, thereby exceeding customer satisfaction and outpacing competitors.
Regardless of which stage your organization might be in its Lean journey, we are uniquely positioned to help.
Operational Excellence Support and Implementation
Once you discover the bountiful results of kaizen improvements, you will continue forever in the spirit of kaizen. ~ Taiichi Ohno
Our mission is to provide operational excellence support and implementation while relentlessly adhering to the principles, tools, techniques and human compassion instilled on us by our Senseis.
We can facilitate the operational, organizational and process changes driven by your business strategy. From quick tactical cost reductions initiatives to strategic Lean visioning and Lean strategy design and deployment, we serve as a catalyst for organizations focused on pulling waste and cost out of their business processes and improving their profitability and market performance.
Let us assist your business through the cultural transformation and continuous improvement that is necessary to achieve operational excellence.